Try the revamped social media newsrooms
This is the most visible update to Prezly in 2 years: we reworked the Prezly newsrooms from the ground up. Now you can use state of the art social media newsrooms to share your stories.
We'd love to get your feedback before we pull the switch and give all newsrooms the updated look & feel.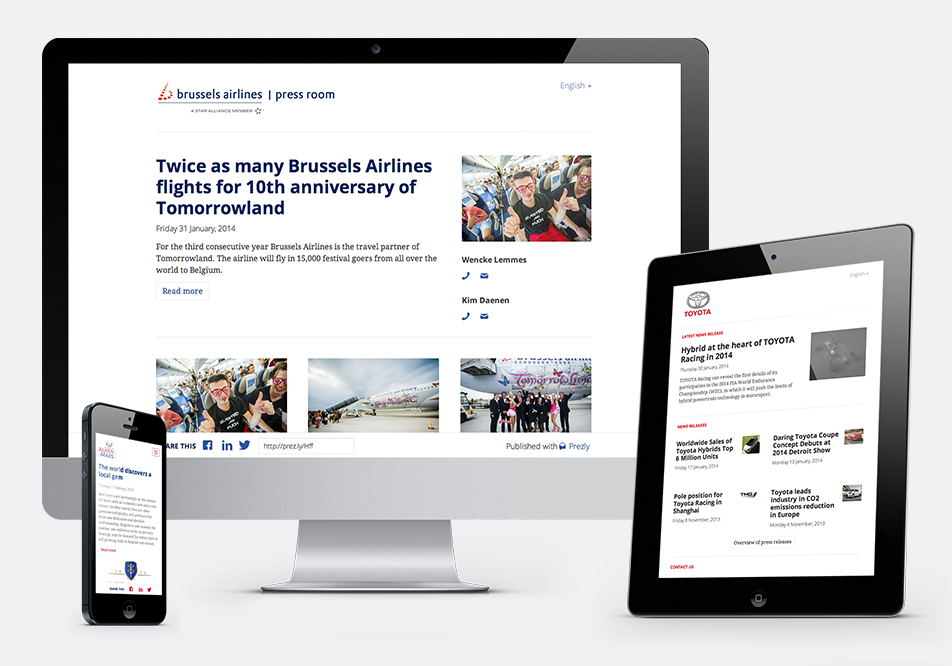 Our clients Brussels Airlines and Toyota already use the new layout. Test your own newsroom by adding '?=theme=new' to the links. For example http://alken-maes.prezly.com/?theme=new
Do you want the new layout now? That's just a flick of a switch. Let us know.
If you have tips or questions, use the comments below or send me an email: frederik at prezly
A collaborative design process
As always we ground our design decisions in best practices and user feedback. For this big update we reviewed the newsrooms of major brands like Nike and Microsoft (read more). We also compiled all the tips and feedback from our clients and created a first prototype to test with a small group of users. By rolling out the new layout for only a selected number of clients we were able to squash bugs in record tempo and make updates easily. Now, we'd like to invite you too to tell us how you feel about your new social media newsrooms.
What changed in this 3rd version of the newsrooms?
A lot. The main elements are a more modern layout, Pinterest-style visuals, mobile awesomeness and a more dynamic newsroom overview page.
Modern layout
We made the current layout two years ago and web design has evolved significantly in that short amount of time. This new layout follows current design expectations: a stronger focus on typography. Larger fonts that are easier to read on all devices. A strong grid system and ample use of whitespace. We also decluttered the news rooms and releases: the obsolete labels for images, videos and contacts are gone and where possible we swapped copy with icons.
Visuals take the center stage
Having good visuals amplifies the value of your news releases. To make sure that your media assets are easy for readers to spot and reuse, the visuals are front and center. A radical design decision to do this, was to hide the full body of the story. Only the title, subtitle and intro are visible. A 'read more' link reveals the rest of the story content.
Another big change is that the images and videos are show in a Pinterest style layout. The complete image previews are visible and they're automatically positioned to make optimal use of the space.
Optimised for mobile devices
The number of people reading news releases on mobile and tablet devices keeps increasing. In the past month 13% of our traffic came from mobile devices, 9% from tablets and the remaining 78% from desktop computers or laptops. We built the newsroom with mobile usage as the starting point. A prime example of this is that phone numbers are highly visible and you can tap them to call the contact.
Dynamic newsroom overview page
The newsroom used to be a list of all news release. Now the newsroom is a more dynamic page that highlights the latest story, uses larger visuals, and immediately shows the brands' primary contacts.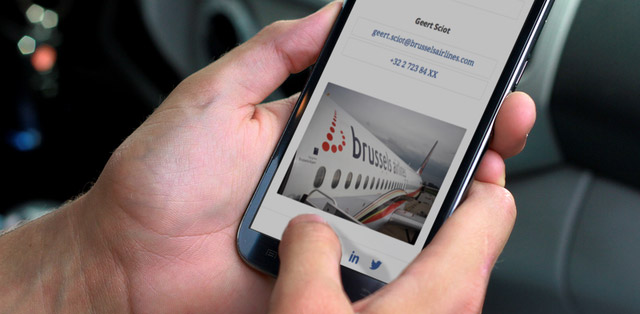 What do you think?
These are the main changes of the revamped newsrooms. The best way to experience the updates is to try some of the first newsrooms that are already in the new layout. We're curious to hear how you feel about these big updates. Feel free to add a comment below or to email me: frederik at prezly.