Corporate communication teams are in the business of relationships. Now more than ever, those relationships live in mailboxes. Up until now it was hard to keep track of these conversations. Meet Mailbox Integration. Link your email account to Prezly, and share all stakeholder interactions with the whole team.
In the example below, you can see that we're checking out someone's contact detail page in Prezly. The activity stream displays the email correspondence Frederik had with this person. That email conversation is now no longer hidden away in Frederik's mailbox. Everyone on the Prezly team can access it too.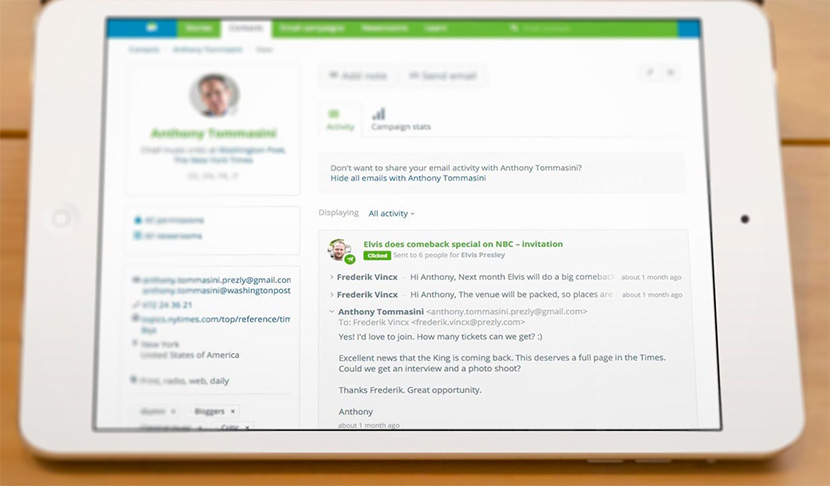 Setting it up is easy. You need only click Connect email account and walk through the setup. Just like you would connect an email client.

Connecting a mailbox to Prezly, with just a few clicks.
The second you give Prezly access, it will start scanning and syncing your mailbox. All conversation history of contacts in Prezly that you have email correspondence with, will be imported.
Of course, there is one major concern: what about people you have a close, private relationship with? Don't worry, Prezly's got you covered. If there's anyone at all whose conversations you don't want to share, you can add them to an exclusion list. That will effectively hide all conversations with that person.
And what about teammates? Again, Prezly's got you covered. Conversations with colleagues are hidden by default.

Hide email conversations that you don't want to share.
Impressed?
Escape the black box that is your mailbox.