Languages
Create Newsrooms with multiple languages
Enable different languages for your Newsrooms
You can create and publish stories in more than one language by setting up multilingual newsrooms – and it just takes a few steps.
Select different languages to your Newsroom
Go to the Newsroom settings and then click on Language & Time, located on the left hand side bar.
In the Languages and Timezone section, just click on the dropdown menu located under Enabled languages and you can select the languages you wish to distribute your stories in. You can select multiple languages by clicking on each language.
Once you're ready to save your languages, makes sure you scroll all the way to the bottom and click on Update Settings .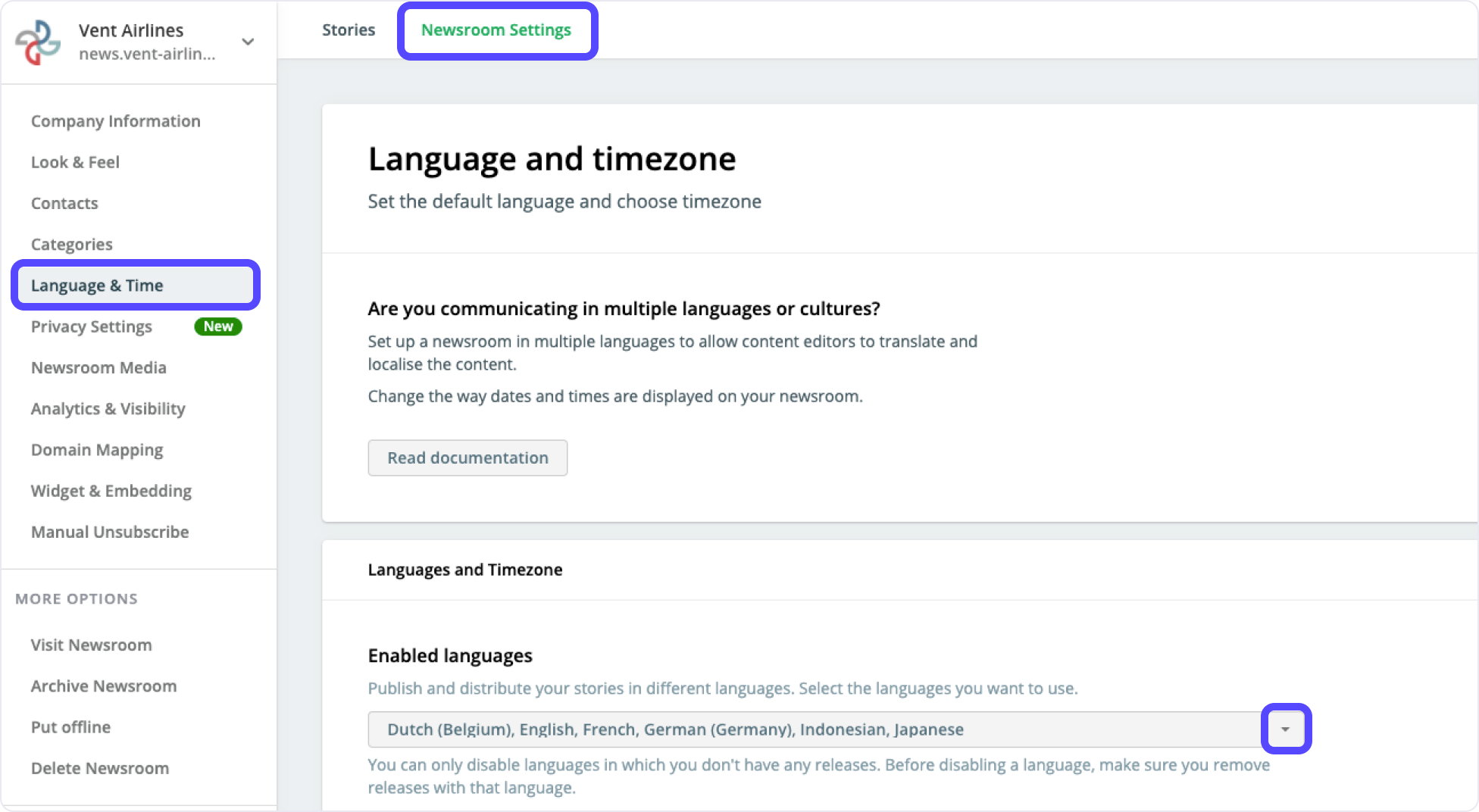 Choose a default language for your Newsroom
A default language is the first and main language your visitors will see when they visit your newsroom.
When you scroll down a little further, the Language and Timezone section, you can also select and change the default language of your newsroom.
Under Default Language, click on the dropdown menu, and select the language you want to use as the default language of your newsroom.
And again, click on the Update Settings button at the bottom of the page to save your changes.
Amend your company information for different languages
Once you have enabled your languages and updated your language and timezone settings, go to the Company Information page. All the info you add here will show in your newsroom.
Click on the dropdown and choose which language you'd like to update to company info in.
You can fill in all the details of your newsroom, including the newsroom boilerplate, social networks and addresses according to the languages of your newsroom.
Translate your Stories to any of your enabled languages
Once you enable several languages for your Newsroom, you'll notice that when you create a Story, those languages will appear on the left-hand-side menu in the Story Editor. 
Just pick the language you want to publish your Story in, and it will be automatically published on the same language version of that newsroom.
Want to create multiple translations of one Story? Read about how to translate a Story.