Importing & exporting
Importing contacts with an Excel or CSV file
Tips for preparing your file
☝️Remember, it's all about making sure each column's information matches its column header. When in doubt, refer to the examples below or download our template to make sure your import goes smoothly.
Useful things: Download the Excel Template for importing contacts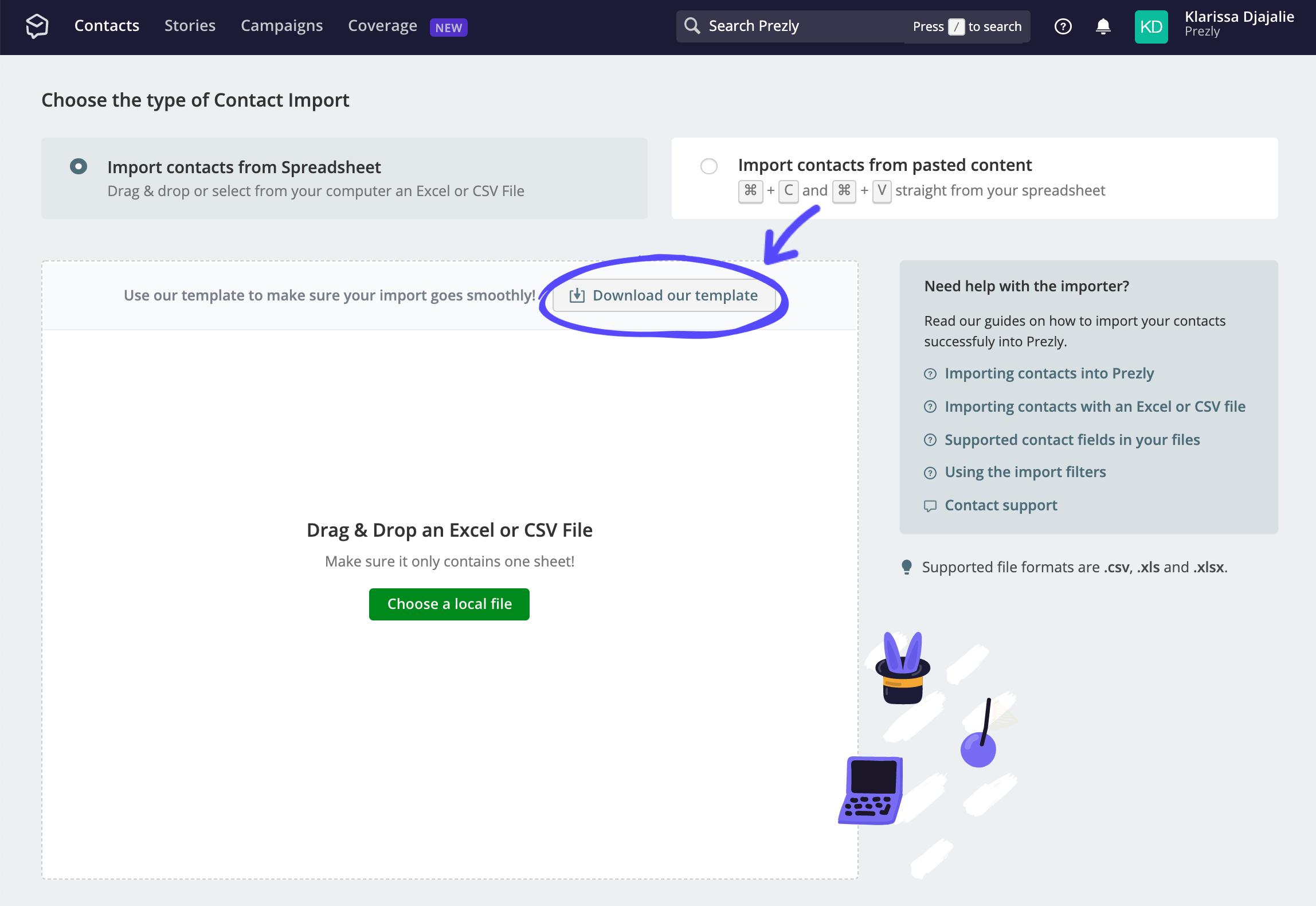 Before you start importing contacts from your spreadsheet file, you must first format it in a way that the system can recognize each field or piece of information about your contact.
The way this works in Prezly is that each column in the importing file represents information about your contact, such as Type, First name, Last name, Organization, Email, etc.
See image below ↓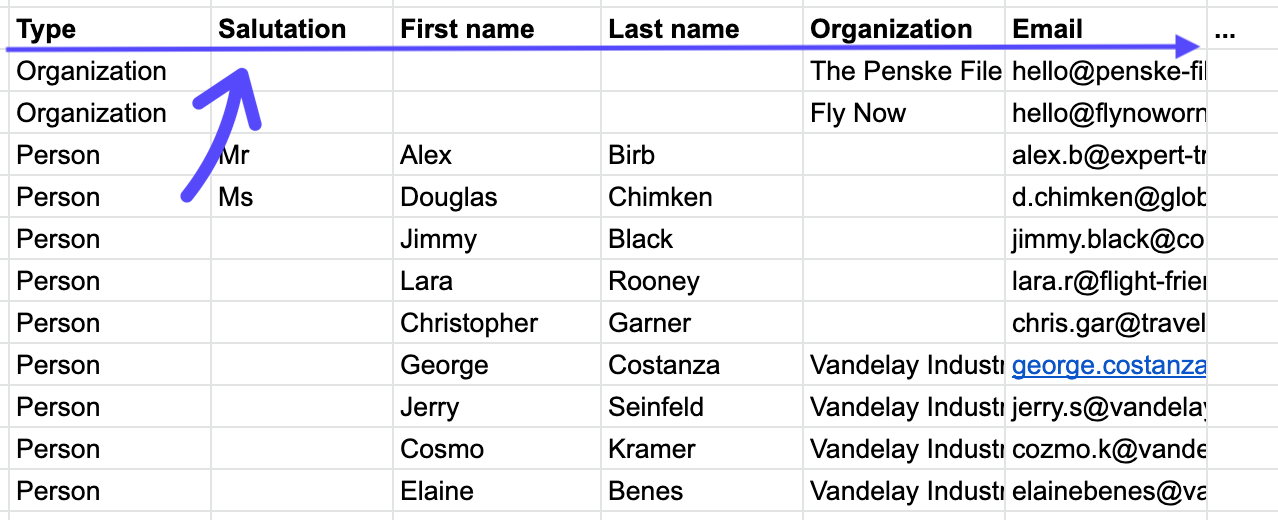 When you're preparing your file, please make sure that...
All contacts are in a single sheet
​All contacts should be in a single sheet, which means not adding different contact lists in different tabs within the Excel or CSV file. Prezly will only recognize a single-sheet file.

You have removed any subdivisions
​Remove rows that are just sub-headers instead of real contact information.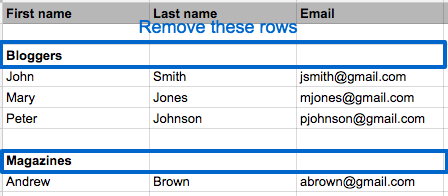 There is one piece of information for every cell
​This is especially important for email addresses and phone numbers. We often see spreadsheets in which multiple addresses are gathered in one cell, like this:

You should split this information into separate cells like the below or separate each email address with a comma:


All the columns have a header
​Add a header row to specify the types of information contained in each column.
​
Tags are separated by commas
​When adding more than one Tag to your contacts, make sure that the Tags are separated by commas in each cell (eg. Tag 1, Tag 2, Tag3).

See a full list of our supported information types →
Once the spreadsheet is imported, it will look something like this. You can double-check your columns and column headers here before moving on to the next step, where you can update your column headers or choose to exclude some columns from your import.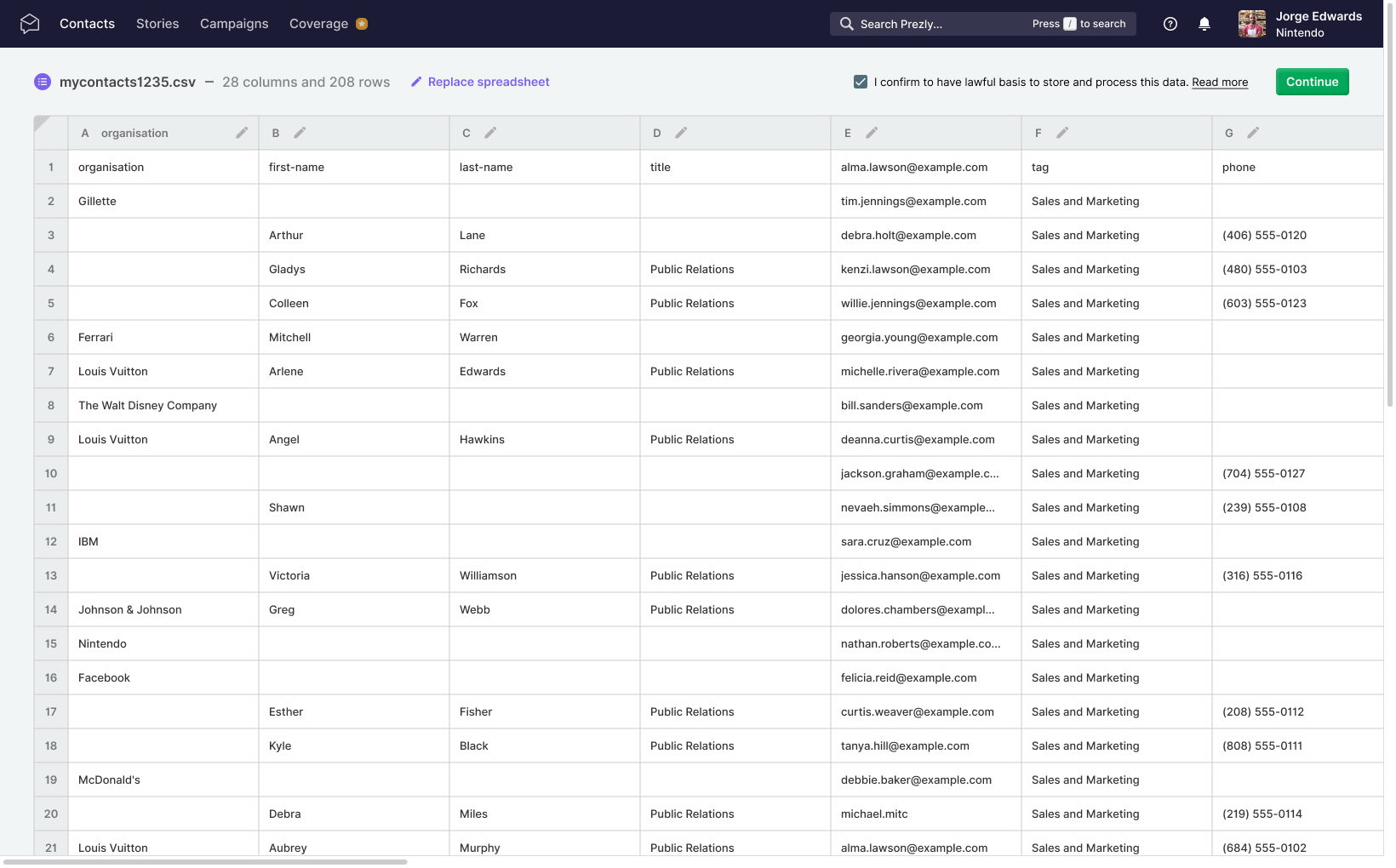 Prezly will automatically flag columns that can't be matched and in this page, you'll be able to resolve the issue(s) by selecting a matching column header, before carrying on with your import.
💡Your source may contain headers that simply do not match any available field in Prezly, don't be afraid to uncheck "Import this column" if that is the case!
What about my Tags?
Something that might be a little confusing is the tagging mechanism when you're organizing your contacts in an Excel or CSV file. For all the Tags you add to your importing file, there are two simple rules:
If they don't already exist in the database, Prezly will create them during the importing process, so after you've finished importing your contacts they'll automatically be tagged with the new Tags from your importing file.
If the Tag already exists in your database, Prezly will simply assign those Tags to your new contacts as indicated in the file. It will not recreate those Tags in the system (avoiding duplicates).
What about Organizations?
This behaves in a similar fashion to tags:
If you import a contact with an Organization field and it doesn't yet exist in Prezly, it will be created and the contact associated with it.
If the Organization already exists, the contact will be associated with it.