Styling your Newsroom
Newsroom Themes: Adding Character to Your Layout
Really make your Newsroom pop with beautiful and customizable themes!
Themes allow you to professionally showcase your brand by changing up how your content is displayed on your Newsroom.
In this guide, we will explore:
---
Introduction to Newsroom Themes
A Newsroom Theme is simply the layout of your Newsroom. A theme will determine how your different stories are showcased on your main page (the Newsroom). There are currently three ready-made layouts available, each with its own characteristics. Check them out!
---
Bea theme
Bea is an evolution of the classic Prezly theme and comes with a clean layout that is perfectly suitable for both text-heavy content and fully branded, rich-media stories. It features a simple yet modern design that is an easy fit for any industry.
Check out how Acer and Red Bull Belgium are using the Bea theme!
Bea theme would be a great option for:
Pressrooms
Blogs and newsletters
Article showcases
Help centers
Internal news releases
---
Greta theme
Greta beautifully showcases your content in a cascading, artfully layered card presentation. This layout is great when you want to add some variation and depth to your card arrangement. The look is both clean and artistic, making this a fun and professional design option.
Take a look at how Live Nation and Indigo Pearl are using the Greta theme!
Greta theme is great for:
Art showcases
Creative blogs
Press kits
Portfolios
Image galleries
---
Marcel theme
Marcel theme is Prezly's first ever dark theme. Compared to our other themes, this layout focuses on text content more than images, and is more compact with the subscription form and "About" section always visible on the right side of the newsroom.
See how Coderhouse is making the Marcel theme work!
Marcel theme works perfectly for showcasing content listed by dates:
Changelogs
Directories
Portfolios
Blog posts
*The settings for this theme currently cannot be changed
---
Lena theme
Lena gives newsrooms a more modern yet organized look, and this brand new layout shows off easier access to newsroom categories that are always visible on the navigation bar. This theme features a responsive design that gives image-centric newsrooms with multiple categories that extra oomph.
See how Mammut and Whistle Ignite are rocking this theme!
Lena theme works perfectly for showcasing content listed by dates:
Pressrooms
Blogs and newsletters
Article showcases
Help centers
Internal news releases
---
How to Customize Themes
These theme layouts are great, but let's play around and make them your own. You can add colors, fonts, logos, customize your card style, and more!
To get to your Theme options, go to your Newsroom (by clicking Stories up on the top banner) and click the gear ⚙️ next to your Newsroom. This brings you to your Settings.
Under DESIGN, click Themes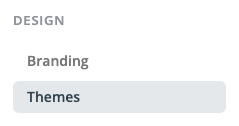 Go to your chosen Theme and click Settings
✨ ​ Now the magic happens! ✨
Content options
First, you have the option to show subtitles and show the date of publication right on the newsroom.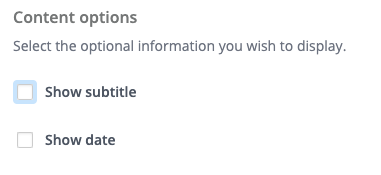 Theme colors and fonts
Most brands will have a color palette as determined by your company's design specifications. Prezly Newsrooms can be customized to artfully reflect this through hex codes.