Security & GDPR
Permission Pass Campaigns
Send an email campaign to ask for consent
A lot has been said about user consent in email marketing. Read about different approaches when it comes to your existing contact database.
This article explains how to run a Permission Pass Campaign.
What is a Permission Pass Campaign?
This is an email to all your contacts asking them to give their consent to get company news or be contacted by your company. In short: asking your contacts to give you their 'permission' to be in your marketing database.
How do I do it?
1. Select which newsroom/brand you want to send from.
If you have multiple newsrooms for different brands or entities we would encourage you to choose the newsroom from the legal entity or the holding company.
2. Go to newsroom settings > Privacy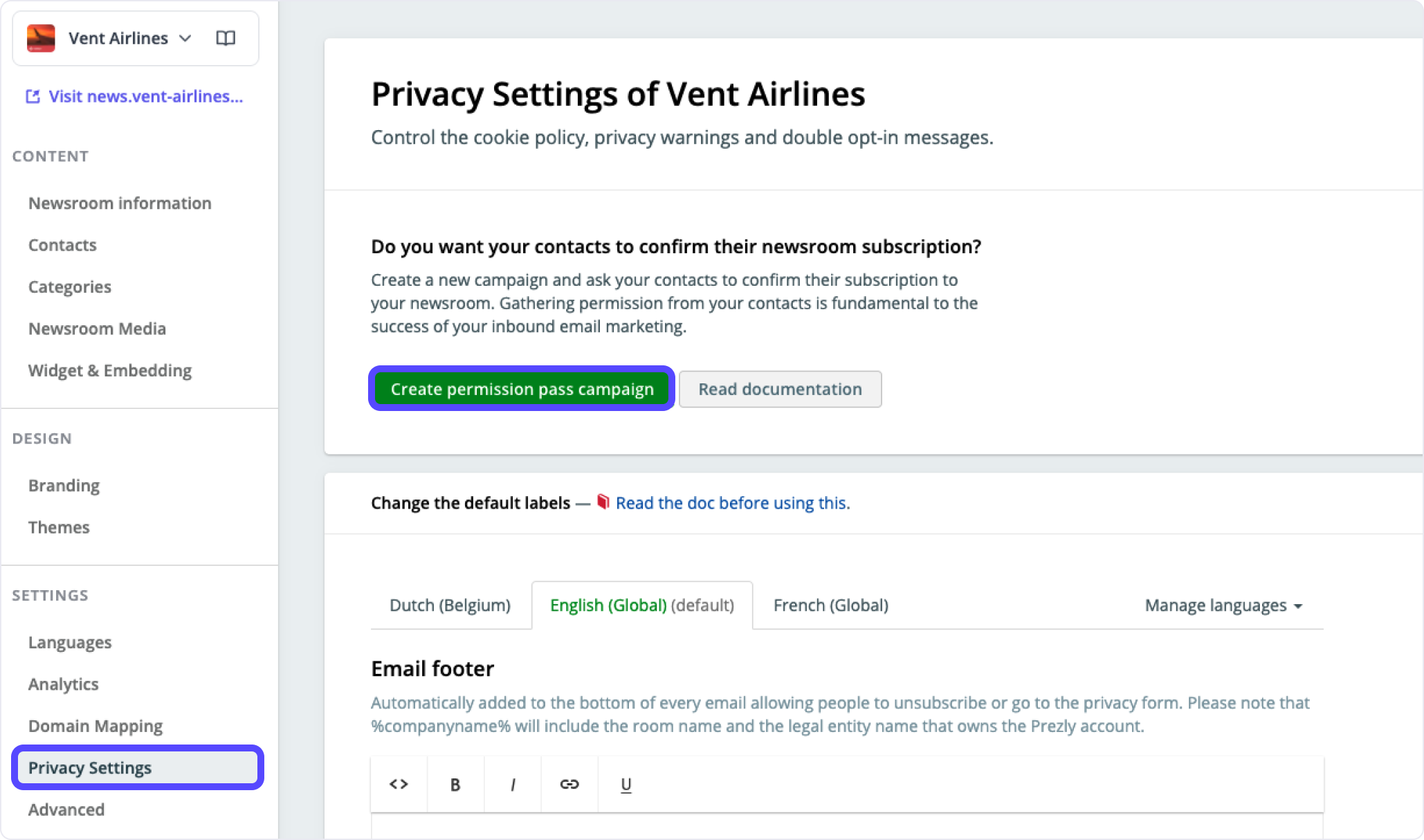 3. Click on 'Create permission pass campaign'
This will create an email campaign with a template to send a Permission Pass Campaign. In fact, it's a regular Prezly email campaign with a number of superpowers.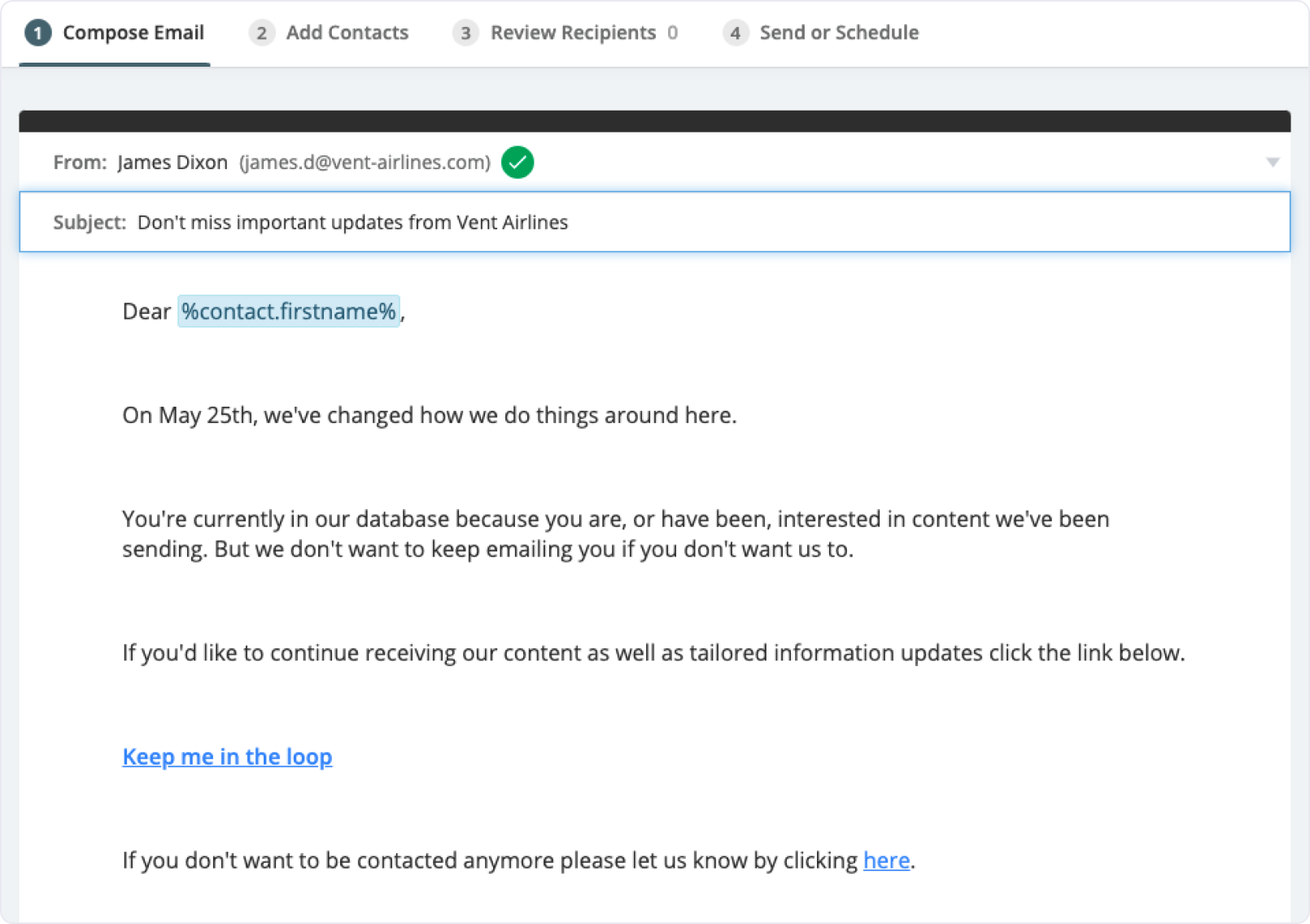 💡Pro Tip: Feel free to change the content, subject, or button labels to your liking. Just make sure to keep the Permission Pass Campaign links. 
Under the 'keep me in the loop' there is a link to [yournewsroomurl.com] with a special consent link (unique for every recipient of that campaign). When your recipients ( click on this link the consent is stored in the database.
The second link ('If you don't want to be contacted anymore') is the opposite action. It will store a withdrawal of consent and do a global unsubscribe for this email address in your database. There is no way to resubscribe that email address to your marketing messaging.
4. Add recipients & send
Now add your contacts to that email campaign and send it out. We encourage you to analyze your current contact database and include the contacts where you feel uncertain about their consent or relevancy to your company news.
5. Check the outcome
From the contact list, you can now filter for results on your Permission Pass Campaigns. The newly introduced filter allows you to filter for:
opt-in: contacts that have clicked and gave consent
opt-out: contacts that withdrew consent
N/A: none of the above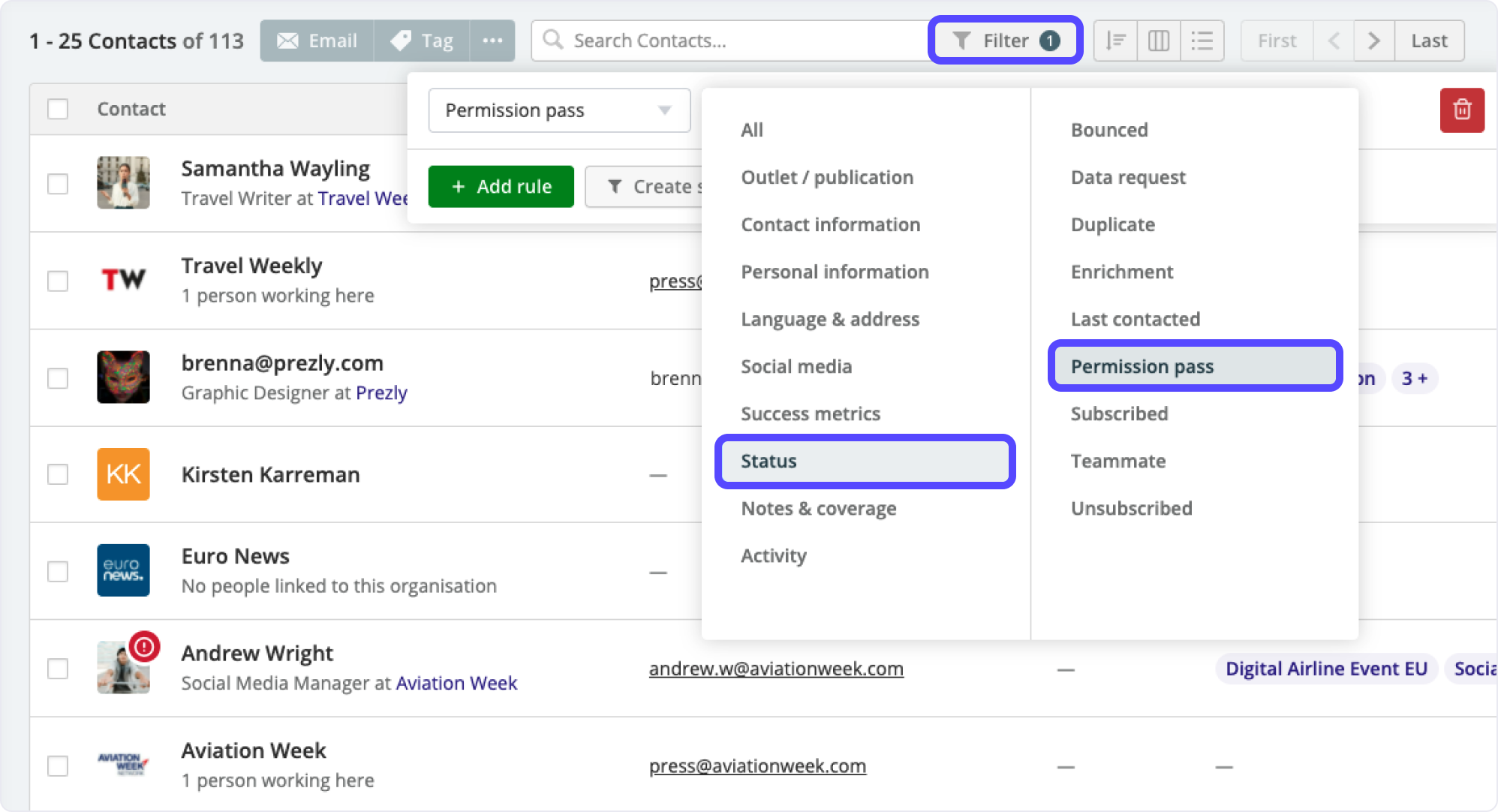 ⚠️ Note: Please note that running a Permission Pass Campaign is not mandatory and Prezly does not automatically prevent you from adding people to your email campaigns or pitches that you don't have consent for.
For journalists and contacts in your database, the link to withdraw consent does automatically unsubscribe that contact from all future communication sent from your Prezly account.