Prezly basics
Newsrooms
Create custom online newsrooms that perfectly align with your brand
Stories and Newsrooms go hand in hand. Think of it this way: once you've published a press release or a company update, these publications now have a place to live, where visitors can come and read them anytime – and that home is a Newsroom.
You can set your Newsroom name, look and feel, language, media and more, all in the Newsroom Settings page that is easily accessible from the Stories Overview.
Check out these stunning Newsrooms for inspiration ▸
⚠️Note: The number of Prezly newsrooms you can create depends on your plan. Please check our pricing page for a comparison of features
When is a Newsroom not a Newsroom?
While we designed Prezly Newsrooms to be first class for publishing press releases, in reality you can use them for so much more. From newsletters to internal comms, investor updates to blogs, your Newsroom can be whatever you make it. And it will all be made even easier with Open Newsroom Themes ▸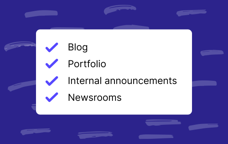 Other ways you can use your Prezly Newsrooms
Use Prezly as is or take advantage of our open API to create a multimedia blog, PR portfolio, internal comms hub, help center & more