Personal settings
Prezly email notification settings
How to control what messages you receive (and don't receive) from Prezly
Whether you're Team Inbox Zero or prefer to get a message for every notification, you can quickly and easily manage what information you'll receive from Prezly.
To update your email settings, first go to your personal settings by clicking your name on the upper right corner and selecting Personal from the dropdown menu.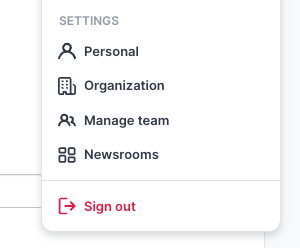 Next, click Email notifications under your Personal Settings.
From here, you can select and deselect the email notifications you'd like to receive.
Notifications
These are the types of notifications you can receive along with an explanation of what you can expect to find in the email.
Campaigns
Campaign sent confirmation - A confirmation to let you know your campaign was successfully sent to your selected contacts
Next-day campaign statistics - A day after your campaign is sent, you'll get an update with your most important campaign stats
Contacts
Contact import completed - Your contact import request was successfully completed
New newsroom subscriber - A new email address subscribed to your newsroom
Newsroom unsubscribe - A head's up when someone unsubscribes from your newsroom (along with the email of the unsubscribed contact)
Billing & legal
Data request and privacy policy updates (GDPR) - Whenever a data request is submitted through your newsroom
Billing and invoice updates - Updates related to invoicing and payments
Prezly's monthly round-ups
To opt out of Prezly's monthly round-ups and product updates, click "unsubscribe" at the bottom of the email to automatically be removed from the mailing list.
Team permissions & limited permissions
If you find you're not able to disable or enable certain notifications, this is because your account owner has restricted access to this feature.
Contact the team owner to change or update your team permissions, or contact us if you're running into any problems by emailing [email protected] or clicking the little purple circle in the right-hand corner for our customer support team.
➡️ Learn more about team permissions
Required notifications
If you find you are unable to deselect the GDPR email updates, that is because there must be one member of a team that is receiving these emails. If you are unable to change this, it means that nobody else on your team has this email enabled, and they will need to enable the notifications before you are able to opt out.
If the only team member with GDPR enabled deletes their account, all the other members of the team will automatically have this notification enabled. This can be disabled by the team members as long as at least one person on the team has this enabled.
For billing emails, there needs to always be at least one email receiving billing notifications which can be edited on the Billing information page under Organization settings. Other team members can opt in or opt out of billing updates, but the primary billing email will need to be changed on the Billing information page to stop receiving these updates.
---
For any questions regarding email permissions, email [email protected] or click the little purple circle in the right-hand corner to speak to one of our friendly customer support gurus.