Personal settings
Try Prezly free for 14 days
How to sign up for your Prezly trial
If you're shopping around for PR distribution software and would like to get a feel of our tool before you decide on purchasing a subscription, you can start out with our free 14-day trial.
It takes less than 20 seconds to sign up! All you have to do is enter your details and click on "Start your Prezly trial" and we'll send over your activation link, so you can start exploring right away. 🕵️‍♀️
The trial includes all of the features available in our Premium Prezly subscription, so test away and ask us questions by clicking on the chat bubble in the right-hand corner!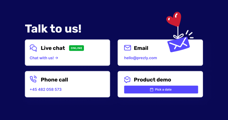 Talk to us
Looking to learn more about Prezly and what it can do? Let's talk!