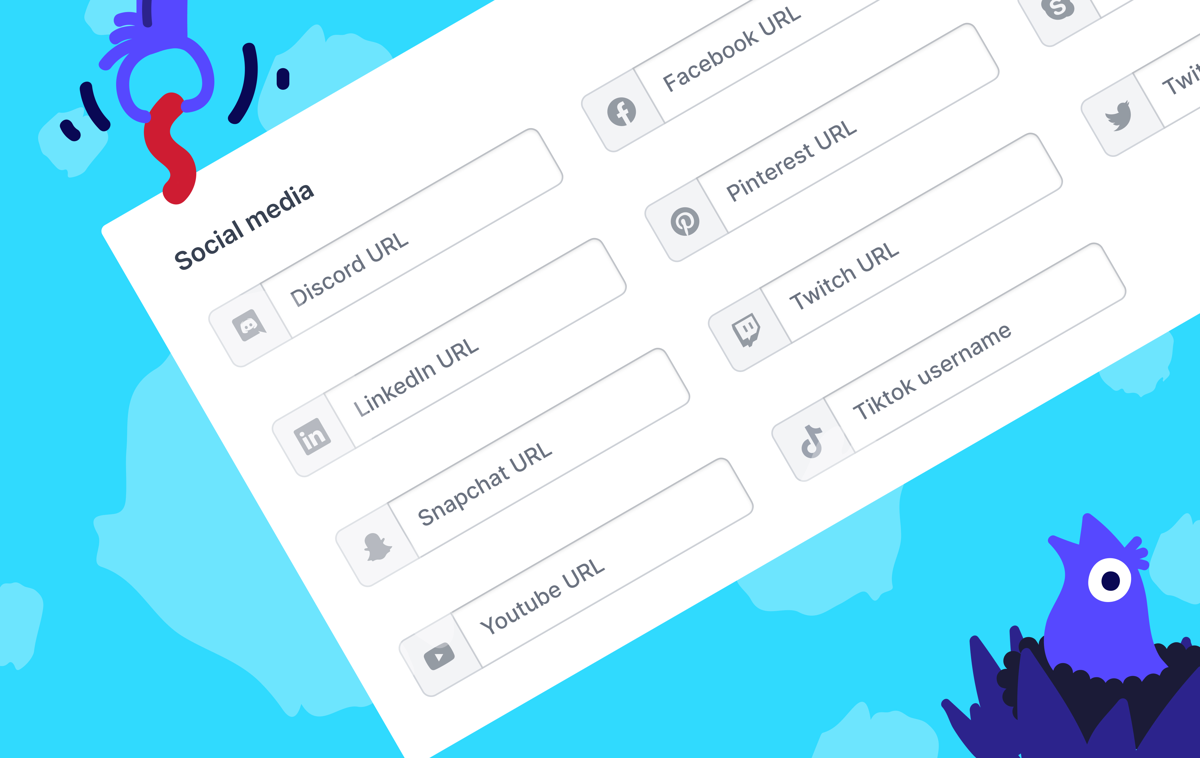 Prezly roundup
Exciting site updates for Prezly power users
See what's new in site settings, the site picker, and other new releases
Get a full list of our latest releases and announcements, feature improvements, and bug fixes – all in our changelog.

---
NEW: We've added support for TikTok
We're in the midst of rolling out our revamped site settings pages but you can already have a sneak peek of what to expect very soon – better interaction, design and functionality.
The Site information page now displays all the languages set up for a site. Clicking on a language opens up the edit form, so you can easily update your company information in multiple languages, without having to leave the page. Oh, you can also add your company TikTok account to your site now!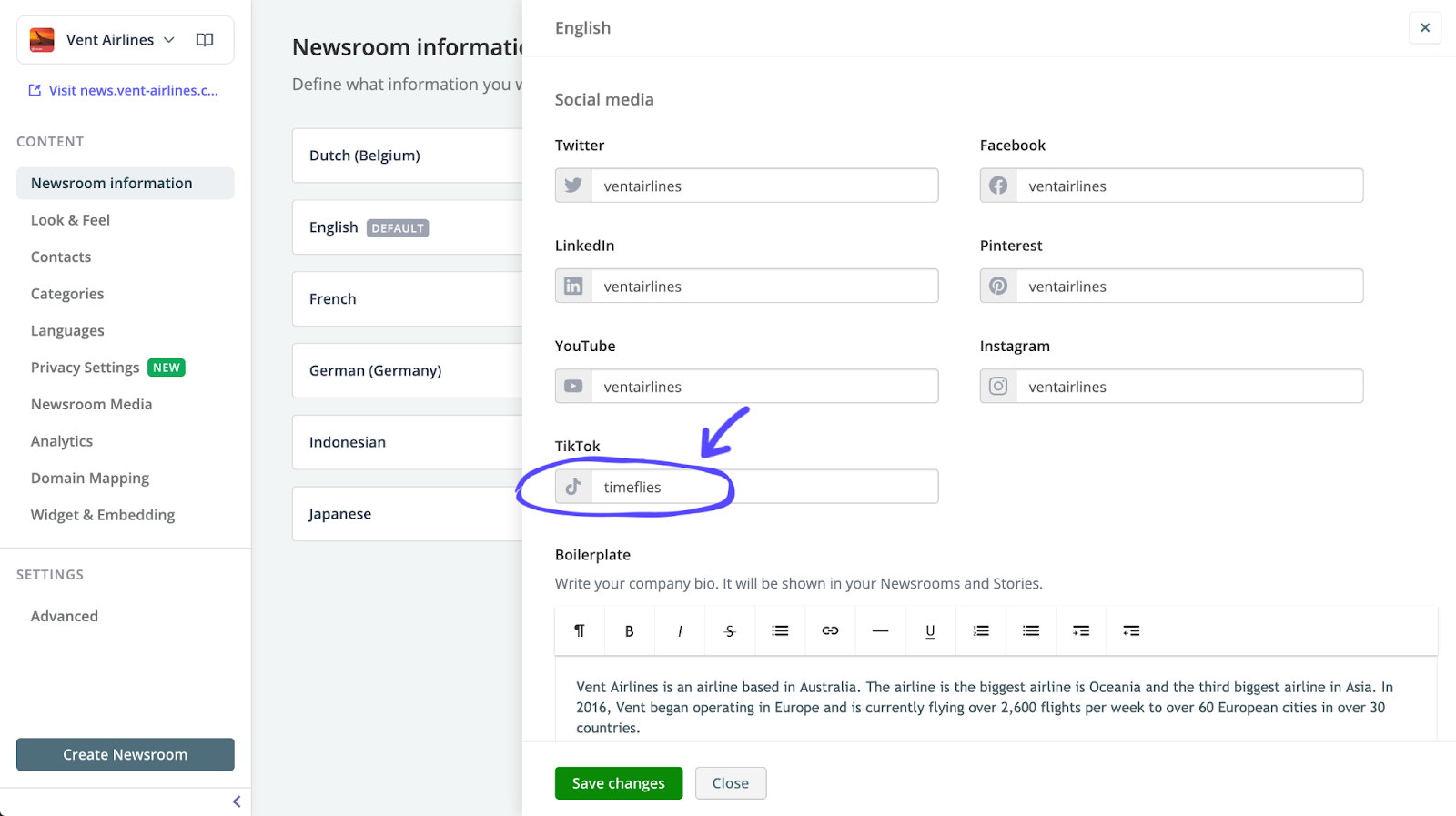 NEW: Visibility and Availability
Let's say you're creating a new site and you want to make sure that all your content is SEO-friendly before you hit publish. Now you can :) Just switch off its Visibility, finish setting up your site as normal, and when you're ready for search engines to index it, flick Visibility to "on". 
On the other hand, if you have a site that you want to take offline for now, but you don't want to lose any of the content you've created already, then you can switch its Availability to "off". That way, you'll still have all the site's content visible inside Prezly and be able to take it online s whenever you want.
Plus, our new Advanced Settings give you the option to set your sites and stories to "private" for internal use, as well as stop them from showing up in search engine results.
Learn more about sites visibility and availability →
COMING UP: Site settings – Branding 
What is currently the Look & Feel settings will soon be consolidated into one settings page: Branding, and this is definitely something to be excited about. I mean, just look at the logo previews on the right. 🤩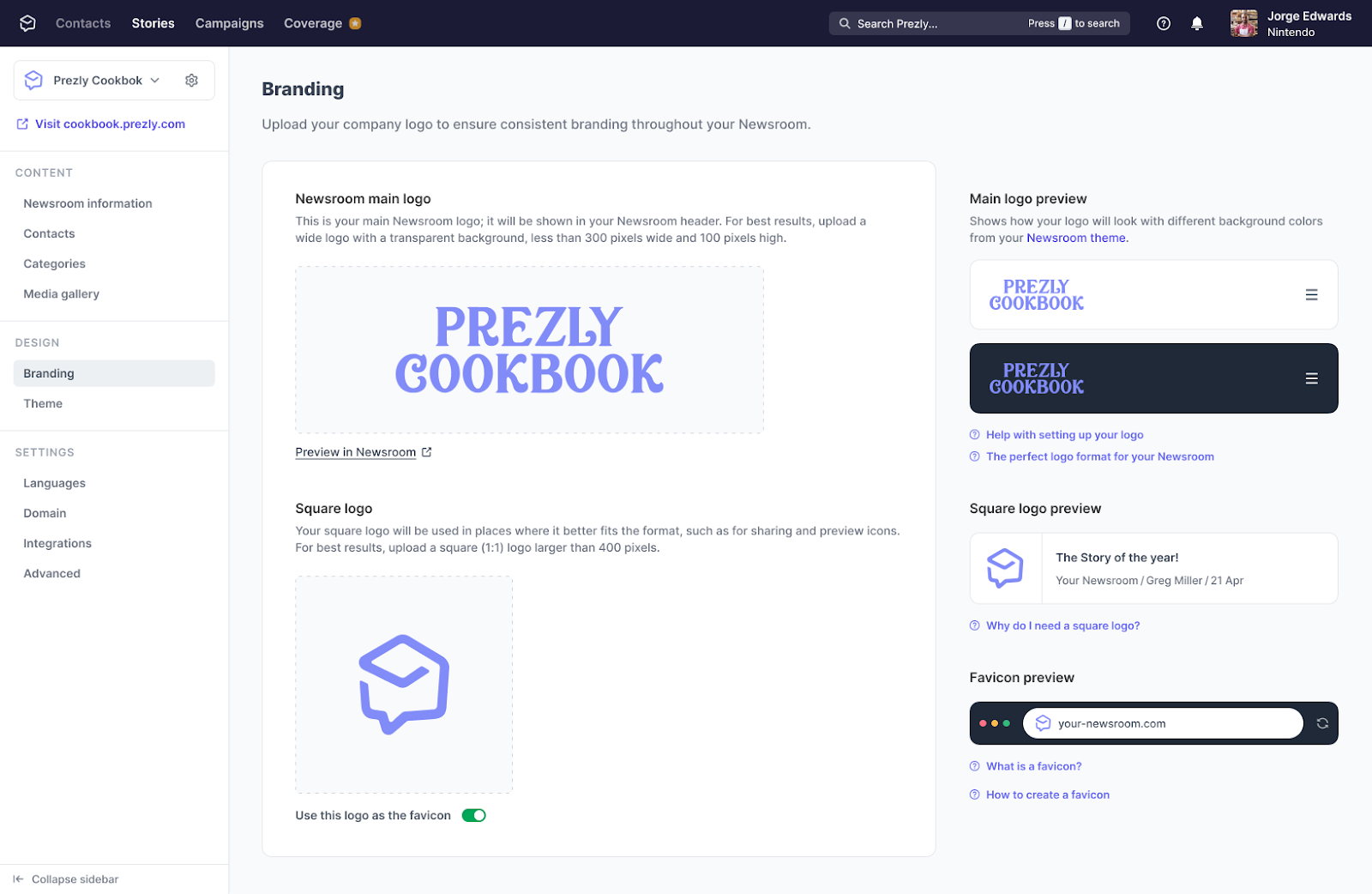 NEW: New look for the site picker
If you have more than one site in your account, the Site Picker allows you to switch between sites when publishing stories or updating site settings. Its new look is designed to make it easier to find, manage, and create sites.
Clicking the little gear or book icon in the site picker takes you to the site settings and stories grid respectively, making it quicker and easier to navigate.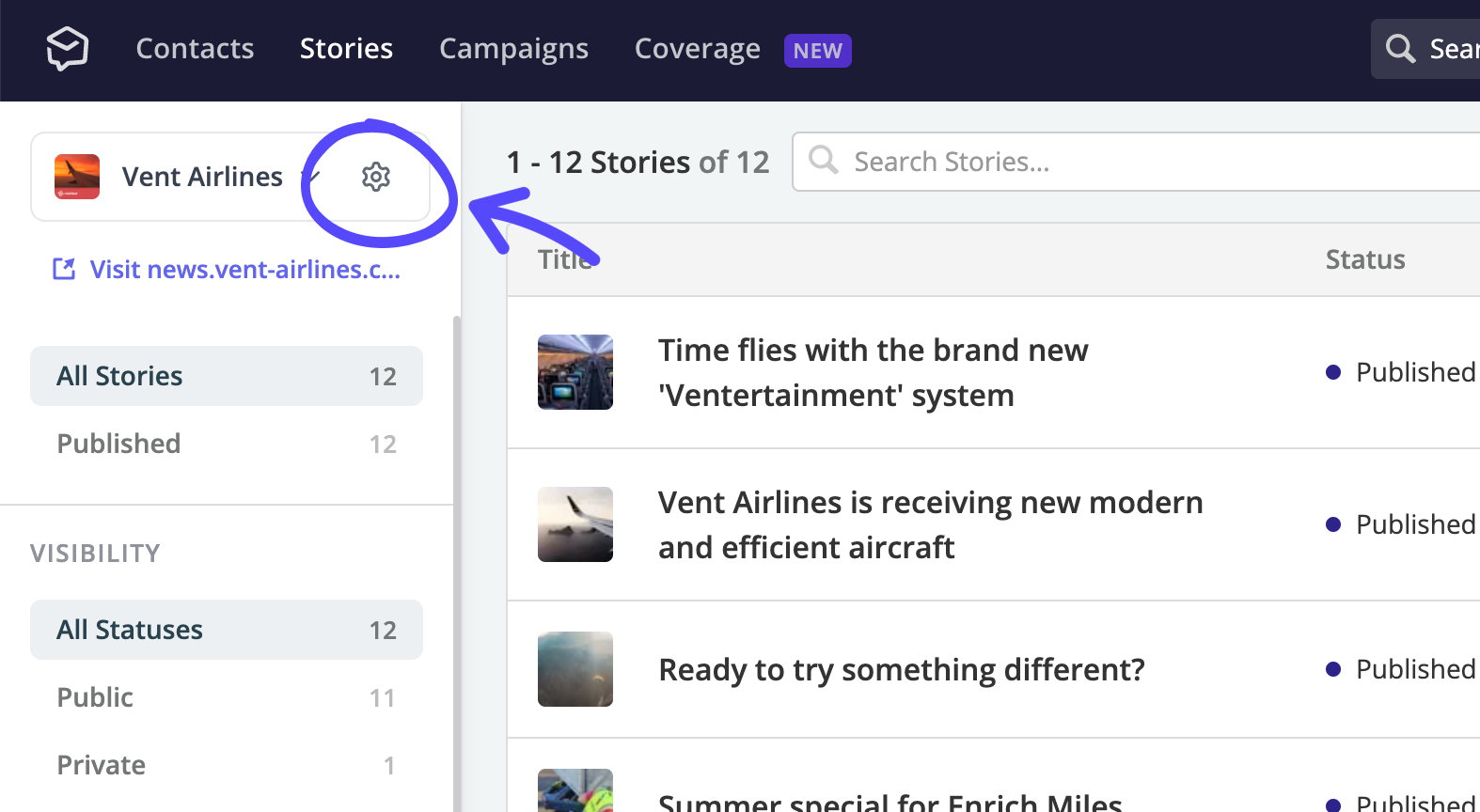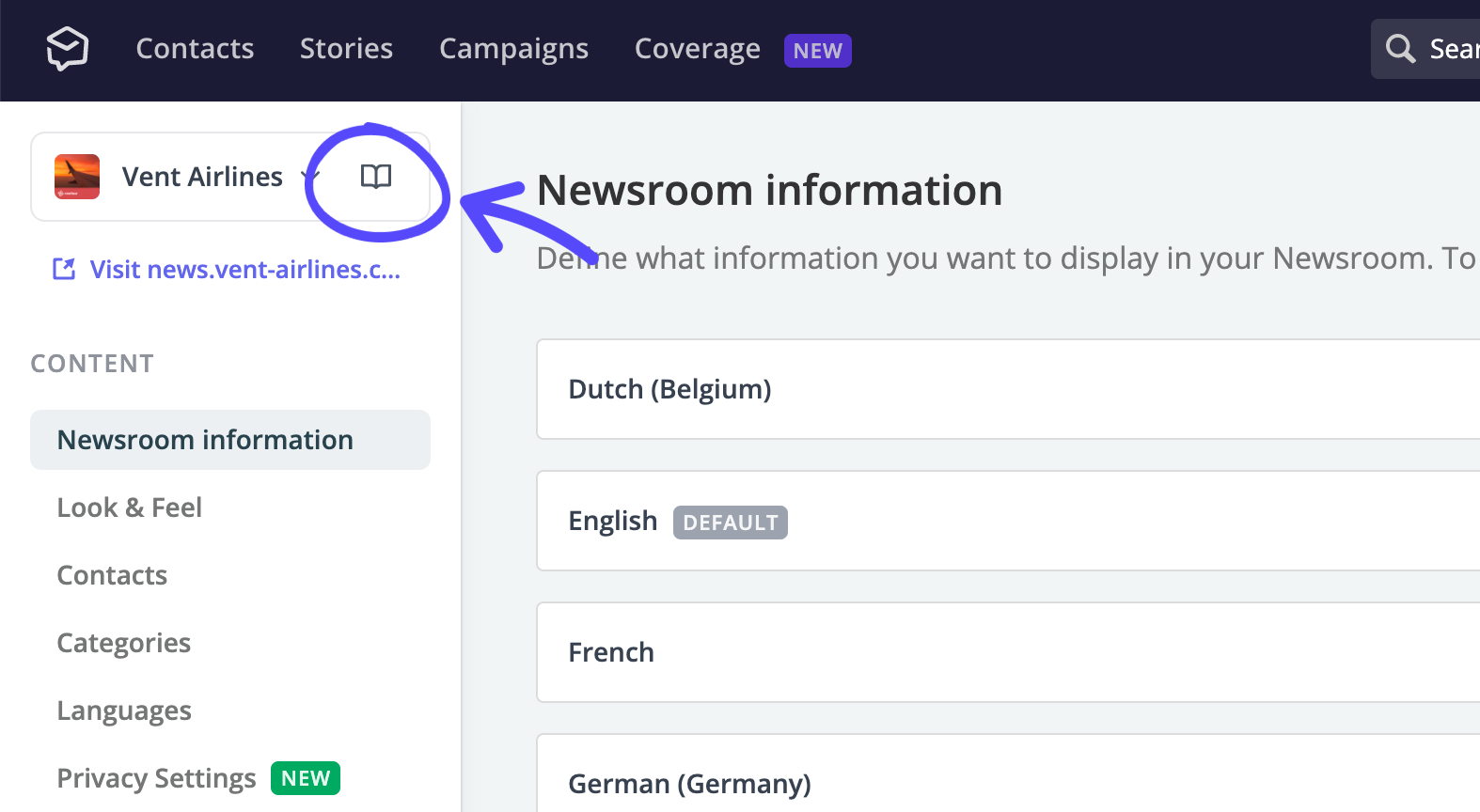 NEW: See which sites contacts unsubscribe from
Find out the exact site your contacts have unsubscribed from with just a quick hover. This will help you figure out what content isn't working for certain contacts, or easily resubscribe your contacts to specific sites if they opt out by accident. 
You can do it in two ways:
1. Filter your contacts by "Unsubscribed", then hover over the red warning icon

2. Click on a contact and hover over the yellow Unsubscribed tag on the Contact Preview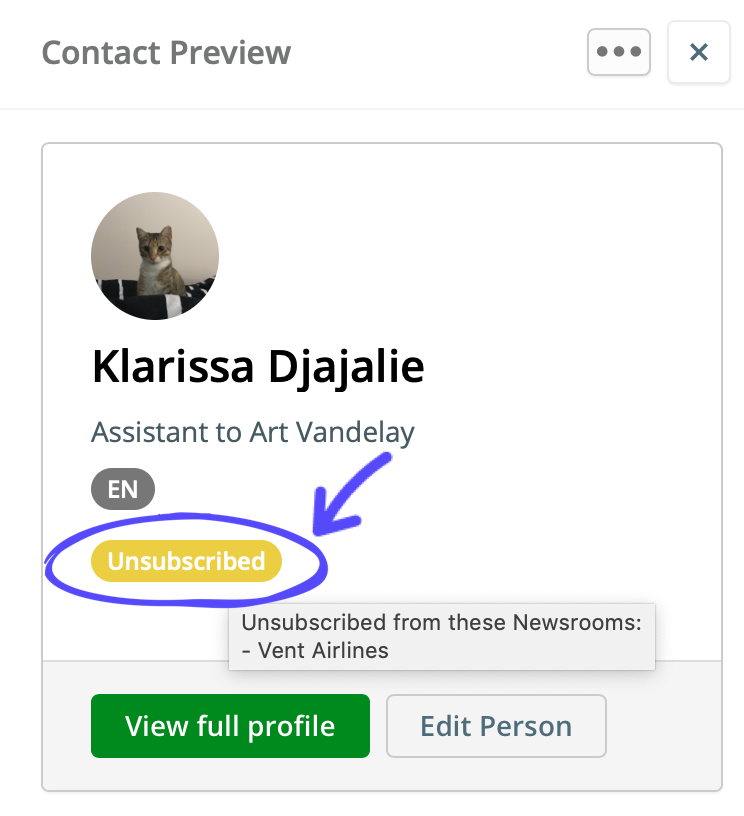 FIX: Filtering by tag now shows all your tags no matter how many you have
This improvement has been in the pipeline for a while and long-awaited by *some* of our customers (if you know, you know!). Previously, the search stopped at just 25 tags even when there are more. With the new update, all your tags will show, from start to finish.
If you're new to Prezly, then you might not see how this might help you just yet. But for those who have been using Prezly for quite some time, and have accumulated hundreds – possibly thousands 😱 – of tags, you'll definitely notice the difference. 
---
Prezly Roundups 💫
The Prezly product team constantly releases new updates and fixes that aim to help you do your best PR work. That's why we regularly send product highlights and customer spotlight emails to take you through what's new. ​
Check out some of our previous roundups and tips:
Creating a PR strategy in 2021 and other updates →
Get early access and test-drive new features →
We're building Themes for your sites →
Got feedback or questions about our updates or how our emails could be better? Email us at [email protected] or start a conversation with us in our in-app chat.