Prezly roundup
Branding and Themes settings – previously 'Look & Feel'
Site design settings revamp, what's coming soon, and other fixes and improvements
REMINDER: Branding and Themes Settings
COMING SOON: Color picker for email components
NEW: Faster loading for the contact list sidebar
FIX: Boilerplate editor
Get a full list of our latest releases and announcements, feature improvements, and bug fixes – all in our changelog.

---
REMINDER: Branding and Themes Settings
Don't worry! Our Look & Feel settings did NOT disappear. They got better. :)
As a part of our total revamp of our site settings pages, we decided to turn Prezly's Look & Feel settings into Branding and Themes that fall under "Design."
Branding is where you add your logos, while Themes is where you can choose your site's layout, font, and color palette.
And in the coming months, we plan to expand on them and add more design settings.
Hint: Email campaign color picker. Scroll down for more info! ​ (◑‿◑) ↓
COMING SOON: Color picker for email components
Yes, that's right! Color settings for emails are coming soon and it will be a part of the site's design settings under Branding.
Here's a sneak peek of what to expect in Branding.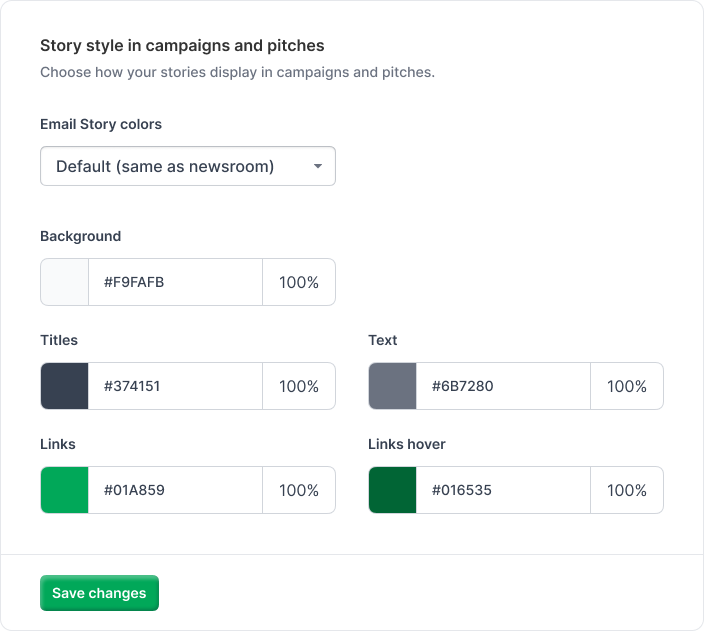 NEW: Faster loading for the contact list sidebar
There is always a ton of information we crunch before displaying them on the left sidebar of the Contacts page, such as segments, subscribed or unsubscribed, as well as bounced filters. Now, the sidebar loads much faster!
FIX: Boilerplate editor
There was a bug around the Site information part of our Site settings that didn't allow users to make or save any changes to the text in their boilerplate. It affected all accounts, but we are glad to say that it has been fixed and the boilerplate editor is up and running!
---
Prezly Roundups 💫
The Prezly product team constantly releases new updates, fixes, and help articles that aim to help you do your best PR work more easily. Our product highlights and customer spotlight emails take you through what's new so you can take advantage of the latest tips and new features.
In case you missed it:
Quick updates to team member and site settings →
Using coverage to help you manage your contact lists →
Site categories and catering content to your audience →
Got feedback or questions about our updates or how our emails could be better? Email us at [email protected] or start a conversation with us in our in-app chat.